Welcome! to the Christian Oasis…a site that glorifies Jesus Christ – Why the name CHRISTIAN OASIS? …. it's as if a person lost in the desert is refreshed and blessed when stumbling upon an oasis, hopefully you'll either be blessed or refreshed spiritually by the resources you'll find on the Christian Oasis. It's a Christian web-site that exalts Jesus Christ. A place where you'll find some resource to aid you onward and upward in your spiritual pilgrimage if you're a believer already, or if you're not a believer yet and are seeking for truth and reality in a "desert-like" world full of falsehood – hopefully this site, will help you to gain a greater insight and understanding about God's great love for you and its display upon the Wooden Cross 2000 years ago.
It's my prayer that by the resources available to you here; various Sermon feeds from some of the leading Pastors/Bible Teachers of our day and as well as of yesteryear & you'll also find many devotional resources; …..all these to aid you in your relationship with the Lord, and help you draw closer to Him.
"I press toward the goal for the prize of the upward call of God in Christ Jesus"
Philippians 3:14 [NKJV]
Daily Bible Verse

Featured at the Oasis!
Sermons & Bible Studies from the
Syosset Gospel Church (my home church)
Touching Lives; Video Broadcasts
Hope & Encouragement for life
with Dr. James Merritt
Drawing Near
with Pastor John Macarthur
Today's Devotion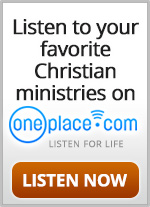 All Feeds on this site powered by Feedburner.
Many thanks to the Feedburner Team!
for the great job they do!